Paywall software has always had a stigma that people have turned their nose up at them, however, it seems that these preconceived ideas are finally being left behind. Initially, paywalls were looked as an alternative to Fake News. The way to look at paywalls was as a guarantee; an insurance. You pay for what you get. With paywalls, you pay for quality journalism. You're able to access news that you want, without annoying ads popping up every two seconds.
However, in recent weeks, the shift from the insurance mentality of paywalls has been replaced with the reality and understanding, of the sheer monetisation benefits that paywalls offer for publishers. This blog aims to dissect what's currently happening in the publishing industry.
Paywall Software In Europe
Interestingly enough, statistics are also showing that the implementation of paywalls is increasing. More and more publishers are launching paywalls, and they wouldn't be doing so if people weren't ready to part with their money for quality news. a factsheet released by Reuters Institute for the Study of Journalism, conducted looked at 171 different news organisations across Europe. The sample included countries as the U.K., France, Germany, Italy, Finland, and Poland etcAcross the findings, 66% of newspapers and 71% of weekly newspapers and news magazines had some kind of pay model. For a breakdown of the paywall models across different platforms, see fig.1.
Fig. 1- Free and pay models by media type.
In regards to news organisations that do have a pay model installed, the average monthly subscription fee across the board was £13.64. Unsurprisingly, the highest average fees were in the U.K., at £18. For a detailed look at average prices, see fig. 2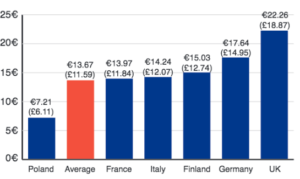 Fig.2 Average prices of paywalls across Europe, per country.
Benefits of paywalls from a consumer's point of view
Now you may be reading this and think, "Why on earth would I pay £20 a month when I can just live with a few ads?" It's a fair question, it's one that we all ask before making a commitment to an online subscription. But news is changing. It's not just a case of having an ad free article that's been reported well. The new strategies that publishers are launching is what you're essentially paying for. With publishers targeting millennials, news reporting has changed from your conventional methods. With paid subscriptions, publishers are offering podcasts, compatibility with different platforms, offline modes, and of course single sign on security. with that being said, there are many major players that are in turn delivering paywalls. In the past few months alone, many major players have in turn debuted paywalls. Players such as Wired, Johnston Press, Vanity Fair, and Bloomberg just to name a few. This shows that publishers are happy to go behind paywalls, and ultimately, consumers are too and they understand the necessities of paywalls in order to keep the quality of journalism up to a high standard.
In summary, what you'll be paying for are new and innovative, ad-free ways to consume your news. It's a premium service, and it may not be to everybody's cup of tea. By implementing a paywall, it will change the way you deal with your existing audience. It will also change the way you tackle prospecting of new audience members for your brand. Contact Evolok for a further discussion on all of our services.