Publishers are fully aware that the termination of third-party cookies and the difficulties brought on by this transition still lie ahead. But there is still time to get ready for the new phase.
Alternative solutions might be in development, but most are still through testing and are far from perfect, particularly when it comes to data access and market player adoption.
First-party data is seen as a viable alternative by many publishers because of the volume of audience data they already own and its enormous ability to drive new revenue streams. But now the challenge is to realise its full potential and turn it into a scalable solution.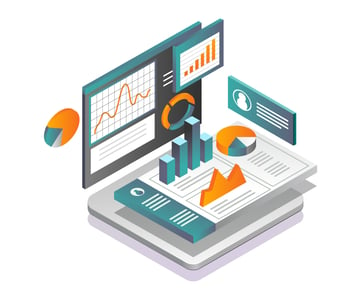 Publishers must transform their existing data assets into a comprehensive user perspective that enables improved comprehension, segmentation, and revenue creation if they are to make effective use of their existing data assets.
Therefore, could more sophisticated analytics hold the key?
How do you define analytics?
There is more to analytics than page views
Page views likely come to mind when you think of site analytics. Although page views do matter, digital publishers actually consider a wide range of other aspects when determining the success of a piece of content. One indicator that aids digital publishers in determining how long people spend actively reading their content is engaged time. Engaged time, like page views and the majority of other metrics, is useless if it is not considered in the context of a publication's overall audience objectives.
Analytics let you determine what material appeals to your viewers
A digital publisher knows the importance of having an editorial calendar. Knowing what articles you're going to post when is crucial. Analytics gives businesses specific examples so they may use them to make informed, proactive decisions rather than relying on gut instinct to assist fill in the gaps in this information.
As an example, the GateHouse Media publication Rockford Register Star (Rockford, IL) published a story on a man who enjoys collecting hats. The next day, editors decided to film the man because the Facebook audience responded to the feature so well. They extended the news package's lifespan beyond usual standards by including the video in it. The readers simply adored reading about this neighbourhood hat collector.
It is obvious that looking at analytics can assist companies and publishers in learning what posts are popular and letting them know which topics require more attention. Companies may adjust their postings to what will resonate with their followers by using analytics to determine which content is a suitable fit for their audience.
You can use analytics to guide your content posting decisions
Often, published articles are technically good, but they fail to resonate with a particular audience. The article may not have been uploaded on the proper channel of distribution or it may have been placed in an odd spot on the homepage of your magazine.
Digital publishers may utilise analytics to learn more about a post's ongoing audience involvement, including the number of views, visits, and referrals. Analytics also reveal how an article's placement influences how readers respond to it. In light of the fact that you'll want to know which areas are more likely to receive clicks than others, this means that analytics might be useful for ad placement as well.
Analytics direct content strategy
Analytics give us important information about user intent. For example your site search analytics. You may find out what information visitors are searching for by monitoring how they utilise the search box on your website. You can then produce relevant content that attracts them. Viewing site search can help you understand how to detect content gaps or how to understand hot requests for upcoming stories.
The key lesson? Analytics are essential to the creation of content. They not only offer useful information on which posts are most popular with your specific audience, but they also assist you in choosing where and what content to post for the greatest impact. To know more how Evolok can help you with your analytics contact us today.
About Us
Evolok is the total, modular solution for sophisticated digital subscriptions. Tailored to meet your unique needs, the Evolok platform lets you create incredible experiences for your users and unlock your content's true revenue potential. Evolok is proud to create a world-leading digital subscription platform, combining identity management, access management, engagement and monetisation capabilities, that enables online publishers to leverage their content's appeal and maximise subscription revenues.