A familiar response from news and media organisations when prompted about paywalls are they don't think they would work for them. Some even claim that paywalls only work in certain regions like the US and would fail anywhere else.
Whilst it's true that paywalls are becoming the norm at US newspapers, it's not conclusive that they will only succeed in certain countries.
So why are news sites delaying paywalls and failing to adopt a new business model to generate revenue?
Some of it's down to the gloomy, cynical press surrounding paywalls seen regularly on the Internet as well as the current uncertainty in the industry. To add insult to injury declining advertising revenues and Ad Blocks are further distracting news publishers.
The story of the Sun's paywall swayed a lot of companies from considering subscriptions but not much has been said about why the tabloid failed. Carrying out research about your customers before transitioning to a paywall may be more beneficial than asking another publisher or following the industry. For the Sun whose readers are a stark contrast to The Times a hard wall was probably not the way to go . They might have considered a softer 'free range' wall perhaps starting with a smaller subset of customers who are repeat customers offering them a metered option.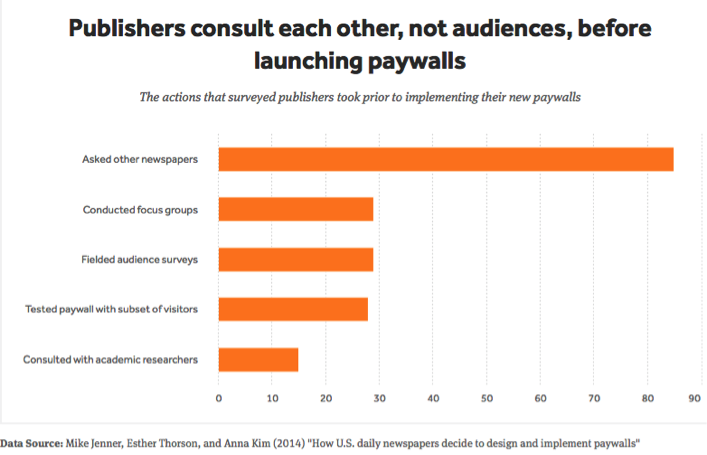 Asking other news companies about their experience of subscriptions is useful but a good way to go would be to understand who your customers are and how you could make a paywall work for your business in your region.
Instead of hit customers with a nagging popup and force them to pay, the approach changes to how can we figure out what they want and give it to them?
The journey to successful monetisation:
Understand who your customers are and their habits
How is your customer base broken down:
Casual = visitor
Regular = user
Repeat = Customer
For news websites, casual readers or "fly-bys" make up a whopping 93% of unique visitors (Williams and Pickard 2015)
Profile your customers
Make data collection incremental and seamless, collecting in small increments and using external sources such as social to enhance the data.
Who they are
What they are reading
What they are saying
What they are buying
What they are liking
Bring it all together to make it actionable
Create a single customer view to engage effectively with your customer base
Segment your customers so you can engage with them in real-time and push news they want to read and offers that would appeal to them.
Create personas for individual customers based on data points targeting them with a call to action in real time. Example data points include; Section, Author, Date article published, Device, Location, Recency.
Personalize offers and call to actions so you have an individual relationship
Emails, newsletters, Offers, Specialised content, Advertising.
Keep the product offering simple to understand
See The Telegraph's subscription page below.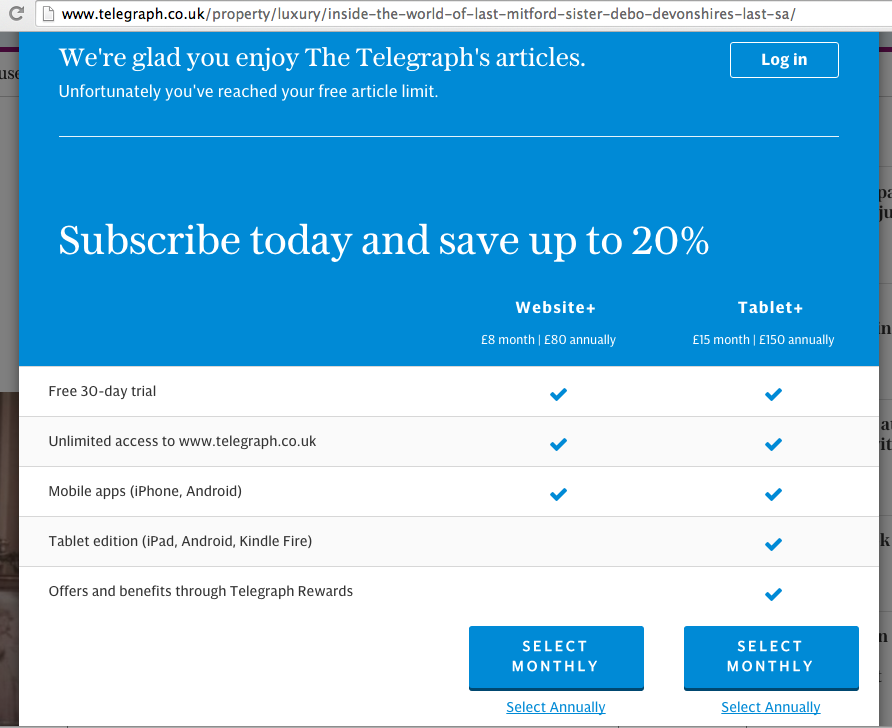 Pay walls are at the forefront of the publishing industry agenda when discussing digital content. To make them work for your business it's imperative to know your customers and not to be afraid to try things out. If decision makers are unsure about the strategy then start with a low risk model, build up, refine and optimise. If something is not working make changes, allow yourself to adapt. Customer browsing habits are changing as rapidly as Technology is, why are publishers afraid to keep up?