We've kind of been taking Single Sign-On for granted recently, personally I'm just seeing it as a convenient way to login using my social media credentials at the click of a button and that's it. But the reality is that SSO boasts far more than simply cutting down the time it takes to log into a website.
So what exactly is Single Sign-On? To simplify, is a session and user authentication service that permits a user to use one set of login credentials (e.g., name and password) to access multiple applications. Companies such as Facebook, PayPal, Google, Yahoo, and Microsoft etc. have adopted it. Automatically sign in users as they browse between multiple and independent websites in your ecosystem or network.
Single Sign-On (SSO) is NOT Social Sign-In
The way I work around it is by thinking Social Sign-In is a form of Single Sign-On. Users will use Social Sign-In as an authorisation and authentication service on third party websites. Allow your users to login and register with one click on your website/app using their accounts from multiple social networks.
Benefits to a business
So how can SSO benefit a business? I've briefly touched on this before in a previous blog, on how important trust is between a user and a publisher. SSO and it's added layer of security increases the amount of trust a user has with a business. The beauty of SSO is being able to bring together large amounts of data into one single system. The SSO identity provider handles all authentication processes. This means that if a user accidentally connects to a rogue website, they won't be submitting their login details directly to them. In fact, they'll be submitting their details to the SSO identity provider, meaning their details will be safe. (See fig. 1)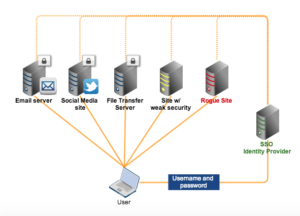 Believe it or not, but when you request a password reminder, there's someone on the other end pulling all sorts of strings in order to get a user back online as fast as possible. If a user loses/ forgets their password on a website that doesn't have an SSO service active, then It's going to be a longer drawn out process to retrieve it, as opposed to an SSO enabled website. With SSO enabled, users can reset their password with a quick Q&A process.
As SSO enables a business to aggregate all back end data systems into one single system, it in turn reduces costs. You won't have to pay one company to look after passwords, another to look after emails, a third company to send personalisation offers etc. SSO enables you to have all of these services under one roof. This in turn leads to a richer pool of data that's centralised, in turn increases the ability to recognise, personalise and segment your readers. Better personalisation leads to better user experience, which in turn leads to a higher chance of conversions.
According to Gartner, up to 50% of all help desk calls are requests for passwords. These days, with the added onus on gathering data, there's also a need for stronger security policies. And yep, stronger security policies mean stronger passwords, that can contain capital and lowercase letters, numbers, and in some cases, non-alpha numeric codes. As passwords are become so complex, they're becoming harder and harder to recall. So users who just want to log in are unfortunately bombarding help desks.
Benefits to a user
This is quite possibly the greatest appeal of SSO, the increased security that the service provides. With a traditional website the user is unconvinced about where their data is being stored and if its secure. With SSO passwords are encrypted, and their security systems are far more complex and advanced than standard websites.
The added security benefits don't stop there. With SSO, the user will know what data is being requested and why. The reason behind this is; SSO services are required to tell you why they're taking your data and what they're using it for. SSO services can request your email list, whether to post on social media on your behalf or not, even access your microphone, however you have the power to accept or reject.
As there will be an estimated 50 billion objects connected to the IoT by 2020 (Cisco), or roughly 30 plus household objects, then SSO will be a valuable asset to have. Can you imagine having to memorise thirty different usernames and passwords? Plus, where would all of this information be stored? SSO works brilliantly bringing back systems together.
Conclusion
In summary, SSO is set to benefit both a user and organisations. The perks of increased security and a better, smoother user experience tick two important boxes. In this current era of digital media, it can't be stressed enough how valuable these two aspects are. SSO gives you the added benefit of layers of security and encryption, it centralises all of your data, and also enables a single login function.