Hamlet once said "there is nothing either good or bad, thinking makes it so".
Paywalls have forever been on the receiving end of bad press, the constant articles scrutinizing publisher attempts like the Sun newspaper and claims of how only the large tabloids are able to monetise premium content. This has prompted an entire industry to fear paywalls.
Large publishers are clearly more versed with the concept of paid content, and many have seen success because they have defined a clear monestisation strategy as part of their digital plans. They have undertaken research about their users, invested budgets in their digital properties, introduced the right paywall for their users and, established a subscription model that works for their loyal readers.
For smaller publishers where the digital roadmap includes paid content, the whole process of setting up a paywall can be a daunting one. There is scope to successfully launching a paywall however; it's a much steeper learning curve and a bigger risk when the return is not immediately guaranteed. There are multiple points to consider as the digital strategy starts to play out. Large organisations may use internal web experts to build paywall technology but for smaller organisations with limited budgets, expertise is usually sought through software vendors.
Lets take a look at some of the factors that smaller publishers take into account when executing their paid content strategy, more specifically the subscription services area:
The platform to provide the paywall technology.
A fixed fee or a revenue share business model or perhaps the option of both?
Paywall type; data wall, hard wall or metered.
IDM, secure login and registration features, with a real focus on security
Commerce options, whats on offer? Print, tablet, desktop, or a combination.
Is there a requirement for social integration and login through Facebook, LinkedIn etc. to capture customer data?
Ad block detection technology – do publishers want to know when readers have ad blockers installed and offer a value exchange to remove the blocker?
Payment gateway, publishers may use an existing payment provider or do they find a new provider.
Linking the paywall platform with existing data stores to ensure a centralised database for all customer information. Its key to have a single store for data to build profiles and enable segmentation activity.
The integration costs for a paywall solution – for smaller publishers with limited IT budgets the cost of the professional service plays a large part in the decision process.
Speed of implementation, anything longer than six months is too long!
Reporting features that produce key data for marketing activity.
A flexible platform to enable regular updates. Big-ticket change requests will not be well received by the publisher.
The above list forms a summary of some of the key considerations for publishers when shopping for a paywall partner. Clearly publishers need to make money, they need to survive in the world of Google and Facebook. Top tips from industry experts and research shows sourcing the right software partner is key to driving a successful monetisation model. Paywalls are in the top five-priority list for publishers in 2017.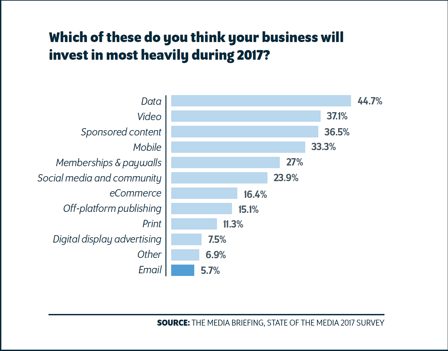 Be prepared, do your research and consider subject matter experts when sourcing the right software partner. A paywall project for a small publisher doesn't need to come with an enterprise project price tag.
Contact us for an Evolok demo.